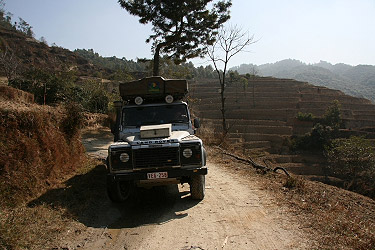 Still no positive news about the shortage...
We decide to change our initial plan...
Life is full of contrasts and perceptions...when we came from India we found Katmandou clean...when we came back from the mountains, leaving the fresh air behind us, the city appeared us much more dirty, noisy and disorganized than before...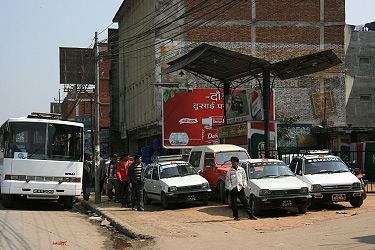 The petrol stations are still empty. Situation is getting worse. Cars, buses, trucks are stopped in front of the stations and everywhere on the roads...
We have no choice : we need to leave Nepal for India...by the shortest way (through the south)
The only problem is that the south of the country is the unstable part and that several persons tell us that the border is maybe closed...
We have been advised to put those papers on the window...tourists are not supposed to be attacked...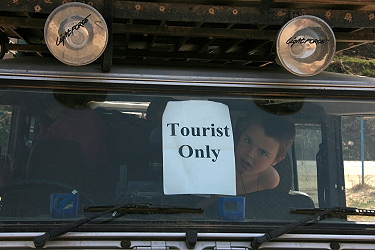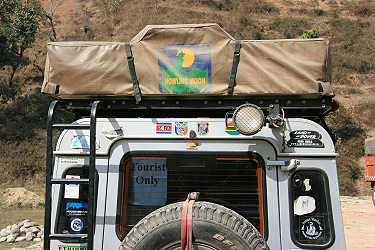 When we reach the first road barrier, the police informs us that we have to drive back, since in 80 km we will be completely stopped...
Okay, let's take the risk...the policeman hesitates and gives us finally his approval...
When we reach the last stop before entering the unstabme area, we are stopped by the army. This time it's more serious...We explain our situation and also that we do not have enough petrol to drive back...
One guy calls his superior and one hour later we are authorized to continue...after a verification that we are not hiding a nepalese person in the car...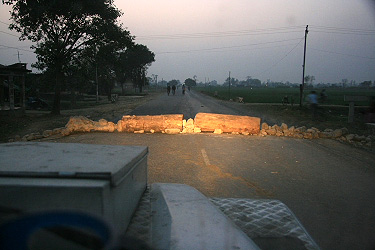 Strange fealing ! Not a single car, not a single truck...
We are alone in the middle of some persons walking on the streets and they very surprised to see us...
Quickly we reach a first road block...we are happy to drive a 4x4 ...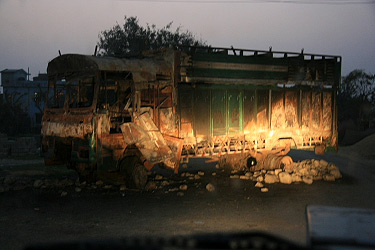 Every 100 m there are those stone and wood barriers and marks of violence...
We had not realized the seriousness of the situation...
Finally, just before the border, diesel pumps are again available and life seems to continue normally here...
At the border we 'lose' again some hours...especially at the indian side...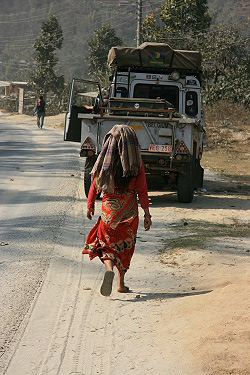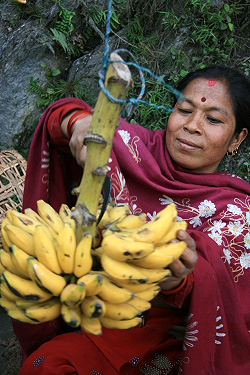 We are sad to leave Nepal without having seen much of it but we will come back ! For sure !