We take the South West road a bit before Yazd in direction of Persepolis...the landscapes are splendid !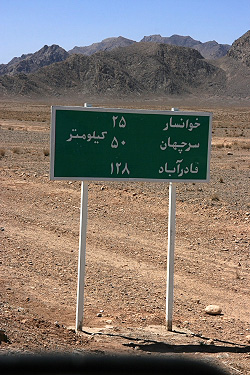 However the traffic signs are often difficult to read...
Before Shiraz, we visit the tomb of Cyrus the Great...the Pasargaede site does not impress us a lot ! '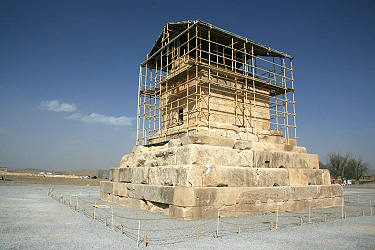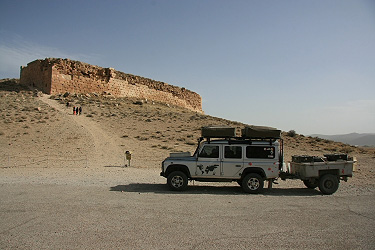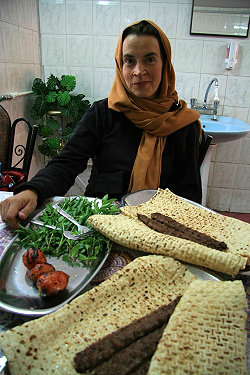 We have to solve a problem. In fact our transit visa is only valid for 7 days...We really want to visit more this beautiful country and have already 'used' 6 days...We have to ask for an extension !
How to do it ? Look for an 'Aliens office' in a big city. We are the 'aliens'. After that, explain that you have either had a mecanical problem or that you have been sick. We choose the second option and explain that Lisa has been very sick : indigestion ! The officer explains that it's certainly because of the food in Pakistan...We confirm! After that we have to fill in some papers. The usual way is to go to the bank, pay a fee and come back the next day with the proof of payment...It's however also possible to convince the officer that we do not have the time and pay the officer directly...The officer explains after a while to Daniel that it's not allowed to extent a transit visa...Daniel says he understands, but what to do now since in our case, Lisa had been sick ?! The officer with his big moustache agrees : we need an extension ! He asks us to sign other documents and very seriously announces that he gave us more days than what we requested ! 10 days more...He is absolutely not dupe and says when we leave ' pay attention to the food in the rest of your trip'...with a smiling face...
Those people are great ! We have now enough time to visit the places we wanted !
When we get out of the 'Aliens office' we are happy 'aliens' and celebrate that with an excellent kebab !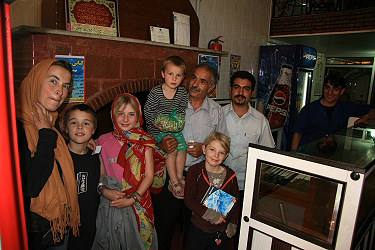 When we want to pay the kebab, a man start talking with us...
Mr Sadighy invites us in his house in Shiraz. But we explain that we will not come back since we are going to Persepolis and then Esphahan...
He wants to offer the dinner...We refuse but another person explains that this is typical iranian hospitality and ...normal...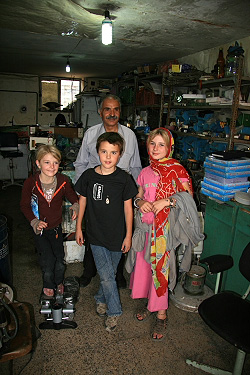 Mr Sadighy is a kind of genius who repairs all sorts of machines, except computers as he explained ! He worked in the past for the iranian air force and is passionated by engineering... He offers us delicious home made juices and sweets ...
What a kindness ! Incredible !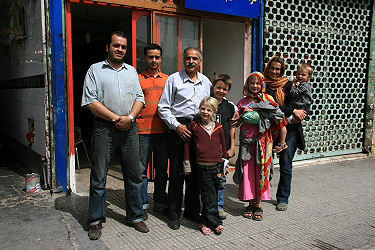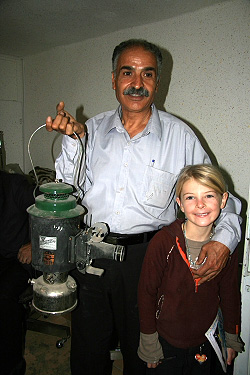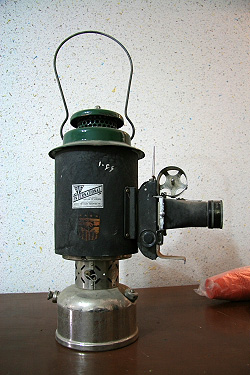 He shows us his collection of old machines and instruments ...
Here on the pic, it is an old projector working with fuel !
The kindness of the iranians is difficult to explain, it should be lived to be understood !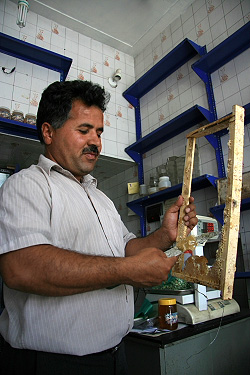 Before to leave Shiraz, we have to fulfill our stock of food ...
Here, we enjoy the tasting of a delicious honey ...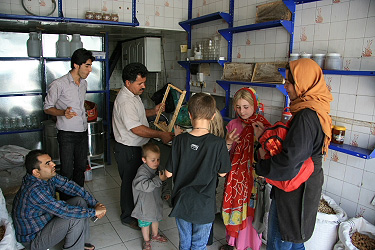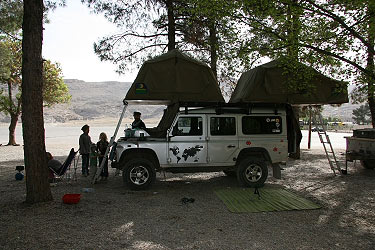 We install our camp in the parking in front of the site of Persepolis ...
We are in front of the old city of the hundred columns ... we feel already a strong energy and we are dreaming about the visit of tomorrow.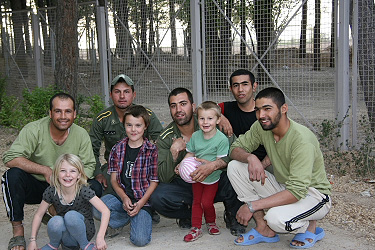 The children make new friends and are part of a football team ...
Lisa takes the snapshot !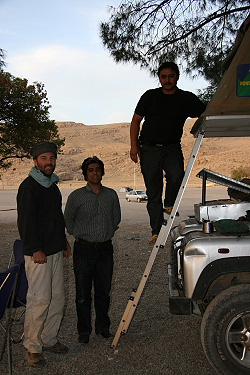 Still so many visitors and pics of the family taken by curious !